Moved!
Please don't drop your information in my old drop box on McAlister, as I won't be there to receive it.
I have a virtual office at College Park Office Suites, 2611 SW 17th Street, Topeka, KS 66604. You may leave information for me there. Please place it in a sealed envelope for added security. Call to make an appointment.
Phone numbers, Email, Website and P O Box address will remain the same.
785-271-9996 or 785-215-3999 | karen@kjstraining.net | KJSTraining.Net K.JS Computer Training and Tax Service P O Box 1364 Topeka, KS 66601.
If this is you and the financial world you must maneuver, we can relieve your frustration.
785-271-9996 or karen@kjstraining.net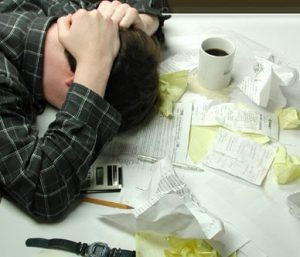 We can provide you with year-long financial help and knowledge so tax time is breeze.  We help new and existing business set up effective accounting, (business set-up through tax returns and all parts in between).
 

We provide:
Consulting
Monthly Profit and Loss Reports, Balance Sheets
Quarterly Filing and Reports—including Payroll Reports
Yearly Reports—Makes tax time a breeze
Taxes: (Individual, Retired, Business (sole proprietor, LLC, S– Corp, Corporation), Rental, and Farm Returns
1099's
W-2, KW-2's, W-3's, KW3's
We are experienced across many industries.
Click here to see Who we Support.
We provide excellent service meeting the individualized needs of our customers at an affordable price. 
Click here to see how we can provide our services to you.
Please contact us to see how we can make your frustration and anxiety disappear. 
785-271-9996 or karen@kjstraining.net
Who We Support:
Individuals (young and older)
Executives
People in Agriculture
Entrepreneurs
Organizations
Non-Profits
Office Staff
New and Established Businesses
Health Care Industries
Private Schools – including colleges
Local, State and Federal agencies and departments
Banks
Small Business Administrations
Corporations doing business locally and internationally
and many others.
We are experienced in resolving technology and financial issues.  Automated financial software saves you money and time, but sometimes when it doesn't appear to be working it is hard to tell if it is the software, an accounting issue, or a hardware issue.  We started our business with the desire to remove that worry from the long list of issues that you face every day.  Our technicians and our consultants work together so you can just say to us "fix it."
Please contact us to see how we can make your frustration and anxiety disappear. 
785-271-9996 or karen@kjstraining.net
We Train by
One-on-one training
Classes
Small group training
E-mail
Phone Support
Remote
Speaking Engagements
Workshops
Our Experience
Celebrating 15 yrs. in business.  Oct 1, 2018 marked the day.  I would like to thank all my clients, students, employees, and contractors who have been a part of this great journey with me.  Though the company name has changed, the location has changed, our Mission and Values have not.
Mission:  Top Quality Service at an affordable price.
Values
                        Integrity
                        Customer Satisfaction
                        Responsible
                        Team Work
                        Knowledge
                        Enthusiasm
Education – Business Management Degree from Baker University, Baldwin, KS. 
Experience – Bookkeeping, Accounting, Support, Supervisor, Human Resource Duties, Supervisor of Accounting and Payroll Clerks, Secretaries, and Computer Technicians, Computer and Business Finance Director, Financial Director, Business Partner, and Business Owner
Tax Preparer since 2001
Certified QuickBooks Pro Advisor since 2003.
Ongoing professional development –yearly
Member of Topeka Independent Business Assoc., Farm Bureau, and several Networking Groups.
We are helping people learn business skills to enrich their lives.  Our satisfaction comes from seeing individuals and companies learn and accomplish their goals.
KJS Computer and Training Services LLC is owned and operated by Karen Skillman.
Please contact us to see how we can make your frustration and anxiety disappear. 
785-271-9996 or karen@kjstraining.net 
NEW – Personal Growth Consulting, Training